by Dan Carle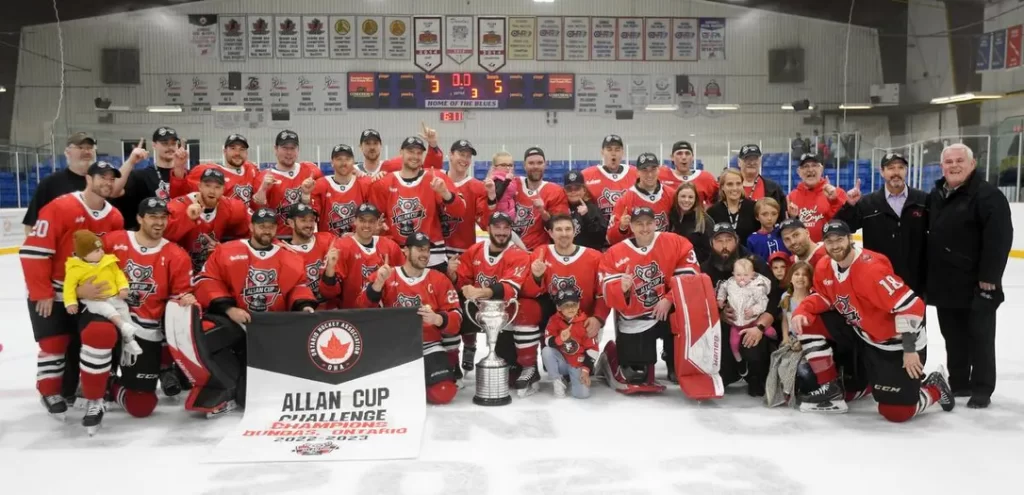 The full extent of their comeback home championship win following the resurrection of the Allan Cup tournament had not come close to being realized when the driver of the event's 2023 return up and drove off with the chalice.
"He's got the Cup with him, and he's gone to Cambridge. What the heck?," asked Dundas Real McCoys goaltender Mike Mole, named tournament MVP after a 5-3 comeback win over the Clarenville Ford Caribous in the April 22nd final.
"We didn't know what was happening."
Dundas President and GM Don Robertson had good reason to turn down any number of offers for a celebratory post-championship cheers at JT Grightmire Arena. First, it was his word, if his team was fortunate enough to win its second national men's senior-A title. Second, the Cambridge Hornets held a full-house salute 33 kilometres up the road for the 40th anniversary of that's team's Allan Cup triumph.
Those former players were as surprised as the sold-out crowd in Dundas, who witnessed the Real McCoys score five third-period goals to erase a two-goal deficit for the tournament win. The Allan Cup had not been contested since 2019.Dundas also hosted, and beat Clarenville (3-2 OT) in the 2014 Allan Cup final.
"We really had eight minutes of bad hockey for the week," said Caribous President and GM Ivan Hapgood. "And it ended up costing us the championship. "The guys that came was focused on the prize right from the start."
In the span of an hour – despite being a lifelong hockey man – Robertson hit two massive back-to-back home runs – one in the now in Dundas, and one for the then in Cambridge.
"I took the Cup out of our room, drove it to Cambridge, so they could get pictures with it," said Robertson. "I said: "Boys, you have 45 minutes.
"Smoky LeClair, who was a pretty physical guy in '83 for the Hornets … he shook my hand and said: 'Well, you are a man of your word."
"Thank you Don Robertson," said one post on the Hornets anniversary Facebook Page.
"Above and beyond."
The gesture – so soon after organizing the week-long national tournament and winning a championship that hadn't been planned, or awarded in three seasons – was met with challenges.
"Of course now everybody wants to buy me a beer, and I have to drive back," said Robertson.
"I needed a driver."
Within the hour Robertson and the trophy were back in Dundas at the popular Collins Brew House.
A small room in the basement was the spot where the Real McCoys – who went 3-2 over a gruelling five games in six days – cheered in Mole, who was handed the Allan Cup only moments before. "The last time we had won, we were out on the town and hooping and hollering with it in Hamilton, "said Mole. "We were out fairly late."
"At 40 years old now, and a couple of kids – I was happy just to go to a restaurant and sit in the basement for a couple of hours and have a few wings and tell stories. Then be home in bed before midnight. That was more my speed this time around."
"It made a lot of people happy," said Robertson.